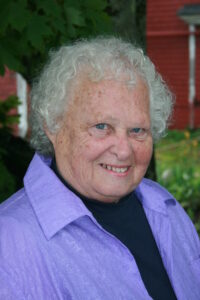 Mary Frances Dodge Brewer, 77, of Murray Hill, East Boothbay, died July 15, 2018.
She was born in Damariscotta, Maine Jan. 19, 1941 to Harry A. Dodge and Ernestine Munro Dodge.
In her preschool years, they made their home in Schenectady, New York, where her father was a pharmacist. He died when she was very young, and she and her mother returned to make their home with her maternal grandparents, John and Laura Gamage Munro, in Round Pond.
In 1951, her mother married Frank S. Dodge of East Boothbay and they moved to his family home on Main Street, just a few doors down from the East Boothbay school which she attended.
After graduation from Boothbay Region High School, she attended the University of Maine in Orono and Katherine Gibbs School in Boston.
During college, she spent summers as an editorial assistant at the Boothbay Register and upon graduation became editor. She remained at the newspaper for 50 years, working under publishers Roy E. Kelley, Dan DeRepentigny, Howard Cowan, Marylouise Cowan and A.R. Tandy, retiring as managing editor.
During her career she won many awards, including being named Maine Press Association Journalist of the Year. She also served on the board of directors and as president of the organization. In 2013 she was inducted into the New England Press Association Hall of Fame.
Locally, she had been active in a number of organizations, including the Fishermen's Festival and Fishermen's Memorial Fund, the Chamber of Commerce and many others. The Boothbay Region YMCA honored her with their Character Development Award in 2012, and the Boothbay Harbor Rotary Club presented her with their Lifetime Service Award in 2015.
She purchased her home on Murray Hill on Linekin Bay in 1962 and had lived there ever since. Whenever possible, she enjoyed going fishing with her husband.
Surviving are her husband, Thurlow "Butch" Brewer; a daughter, Sarah Morley and her husband, Andrew Morley; grandchildren, Hannah and Nicholas Morley; a brother, F. Munro Dodge and his wife, Mary D., of Boothbay; and several nieces and nephews.
There will be no funeral services. A celebration of life will be held in August.
Friends who wish may make donations to Rebuilding Together, 203 Townsend Ave., Boothbay Harbor, ME 04538 or the Boothbay Region Student Aid Fund, P.O. Box 293, Boothbay Harbor, ME 04538.