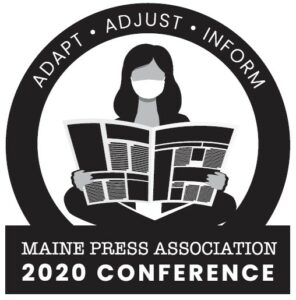 There's no question that we have endured a strange, challenging and remarkable year, so let's get together and celebrate each other, albeit online!
Your $20 registration fee includes access to all the Oct. 24 Conference events and programming for the coming year.
Oct. 24 Schedule of Events 
9 – 9:30 a.m.
Annual Business Meeting (to be held via Zoom; 
log-in details to follow
)
10 to 11 a.m.
Annual Hall of Fame Ceremony
Induction of Terry Carlisle and the late Art Guesman into the MPA Hall of Fame
4 – 6 p.m. 
Auction and Awards Ceremony
Join us at 4 p.m. for our annual Live Auction with our lively and entertaining Auctioneer Aimsel Ponti. This important auction raises money for MPA's Scholarship Fund, helping to build the ranks with educated and trained journalists.
The Live Auction will be followed by the annual MPA Awards Ceremony, with Esteemed Host Greg Rec. Get ready to sit back in your favorite armchair and enjoy it all.
The Awards Presentation & Celebration will honor the winners of the 2020 Better Newspaper Contest, as well as the Individual Awards: Journalist of the Year, Advertising Person of the Year, Bob Drake Young Writer, and Unsung Hero.
Stay Tuned!
Coming later this week, we will launch the online MPA Silent Auction to benefit the MPA Scholarship Fund and the MPA Store, where you can purchase all kinds of branded MPA gear and other fun logo wear…. INCLUDING the commemorative 2020 Logo Wear — Year 2020 was wild, unforgettable, and we all pulled together as journalists to keep the public informed.
We've also added a Donation button to the event site for those who choose to make a straight donation to the MPA Scholarship Fund.
To learn more and to Register, go to: mpa.vehlovenue.com/
We look forward to seeing you at the 2020 MPA Conference.