We're looking forward to seeing all of you at the 2023 MPA's Conference next Saturday, Oct. 14 at the DoubleTree by Hilton Hotel, 363 Maine Mall Road, Portland.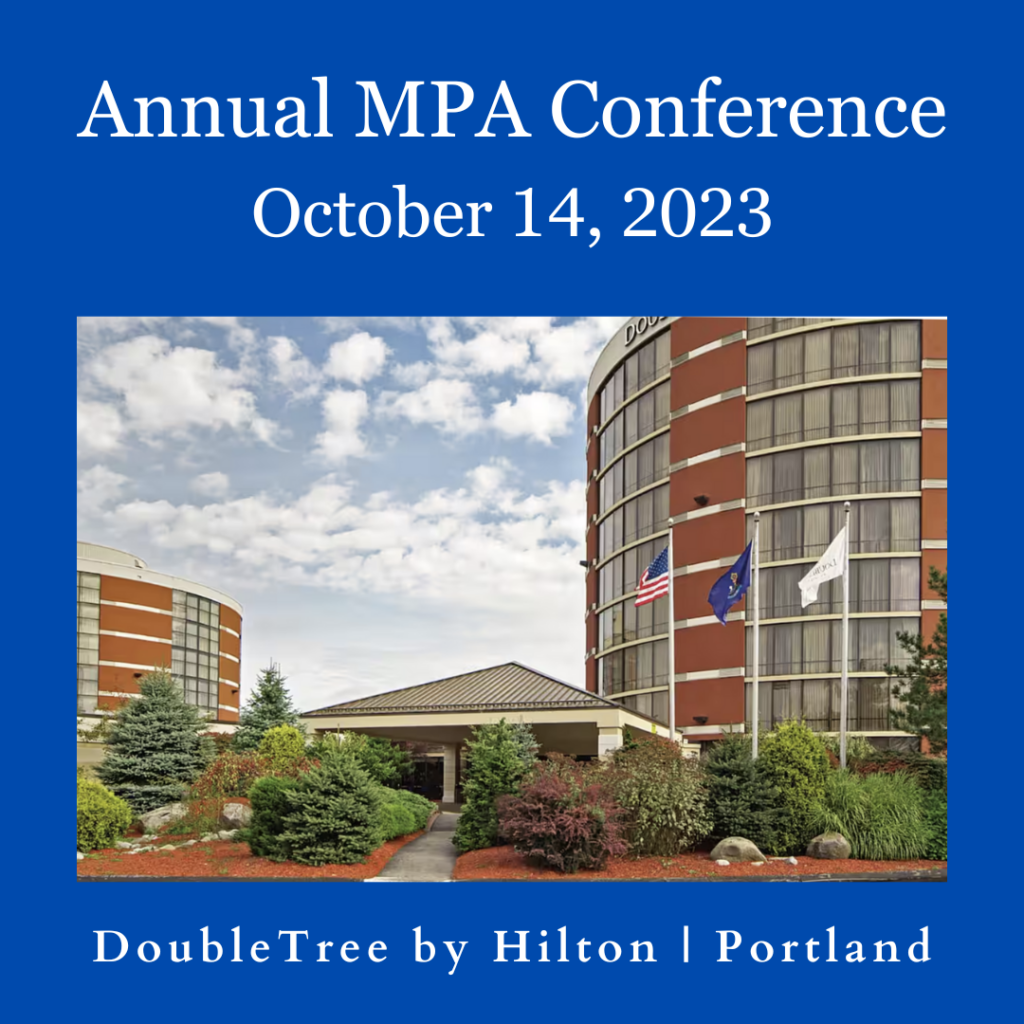 Registration is required for attendance at the Conference, and while the registration deadline has passed, you can check availability be contacting Diane Norton at mainepressmail@gmail.com.
The hotel room reservation deadline and special MPA Conference rate of $189 has also passed. The hotel will try but cannot guarantee group rate & room availability beyond the deadline (9/29). Call the hotel directly at 1-207-775-6161 to learn more.

MPA Conference Schedule
8:30 a.m. to 9:15 a.m. | Annual Business Meeting
The Annual Business Meeting of the Maine Press Association will kick off the MPA's 2023 Conference. Members will elect new board members and consider amendments to the association's bylaws.
9:30 a.m. to 10:45 a.m.| Answering your questions on Maine's Right to Know
This year's Right to Know panel will feature Sig Schutz, libel and defamation expert from Preti Flaherty law firm; Judy Meyer, Sun Journal executive editor and Maine Right to Know Advisory Committee member; and Lynda Clancy, PenBay Pilot editorial director and Maine Right to Know Advisory Committee member. Questions will likely include:
How should I report on a meeting in which audience members are silenced in a public forum for airing their concerns or grievances?
How do I deal with a public information officer ignoring my calls and emails?
9:30 a.m. to 10:45 a.m.| Panel: A Sustainable Newspapers in Education Program
The Ellsworth American and Mount Desert Islander have had a sustainable Newspapers in Education program for close to 20 years. In 2022, they launched an NIE initiative for Knox and Waldo County with the Courier-Gazette and Republican Journal. Cathy Marshall and Chris Crockett will showcase the structure of the program including launching NIE in new markets, classroom solicitation, engaging with the teachers and covering the cost of the program through sponsorships and advertising.
9:30 a.m. to 10:45 a.m.| Panel: How to get smarter with your I-Phone photos
Tips from Sun Journal photographer Russ Dillingham on how to take better photos with your iPhone or other camera.
11:00 a.m. to 12:00 p.m. | Panel: Navigating AI in Journalism with Dwayne Desaulniers
A dive deep into the evolving landscape of journalism in the age of AI. The media realm is on the brink of a transformative shift with the advent of Large Language Models (LLMs) and AI-assisted bots. These tools are not only revolutionizing the way journalists research and present stories but are also enhancing the digital news consumption experience. Join us for an enlightening session with Dwayne Desaulniers as he delves into:
Showcase of AI prompts: Discover the mechanics behind AI-driven journalistic tools.
Interactive Workshop: Understand the art and science of creating and refining AI prompts.
Discussion Forum: Engage in robust conversations on the potential and challenges of AI in journalism.
Plus, bring and share your unique prompt ideas for real-time testing and feedback. About the Speaker: Dwayne Desaulniers has served as AP's New England representative from 2015 to 2020. He's now channeling his expertise into business development at AP's New York City headquarters.
11:00 a.m. to 12:00 p.m. | Panel: Alternative Revenue Sources
How can publishers drive revenue beyond advertising, sponsorships and subscriptions? Newspaper archives, puzzles, events and ticketing can all be a source of revenue. Who should attend? Anyone in charge of delivering revenue would benefit from this discussion. Join Allison McCann, Group Vice President, Business Development at Maine Trust for Local News.
12:15 p.m. to 1:45 p.m. Hall of Fame Induction Luncheon
Honoring the 2023 Inductees: James McCarthy and Ken Waltz.
2:00 p.m. to 3:00 p.m. | Keynote address | A new path forward: The Maine Trust for Local News
Ross McDuffie, the Chief Portfolio Officer for the National Trust for Local News, will be our keynote speaker. With deep leadership experience at Lee Enterprises and McClatchy, Ross now oversees the National Trust's growing portfolio of properties including the Maine Trust for Local News (the former Masthead Maine).
3:15 to 4:15 p.m. | Editor + Student Meet & Greet
Looking for the next generation of journalists? Make connections with students interested in a career in journalism. Join us at our Editor + Student Meet and Greet where editors can share their perspective on journalism in Maine and students can learn more about our member publications in a casual, social exchange.
5:00 to 6:30 p.m. | Annual Scholarship Auction & Reception
Join MPA members and guests for the Annual Scholarship Auction & Reception, featuring Auctioneer Extraordinaire Aimsel Ponti. All proceeds from the auction benefit the MPA Scholarship Fund
6:30 p.m. | Awards Dinner & Banquet
Who will be this year's Advertising Person of the Year, Journalist of the Year, Bob Drake Young Writer, and Unsung Hero?
Master of (All) Ceremonies Greg Rec is sure to have the bad-joke jar ready, an entertaining array of hats, and possibly a song or two as we celebrate the winners of the 2023 Better Newspaper Contest and individual awards.