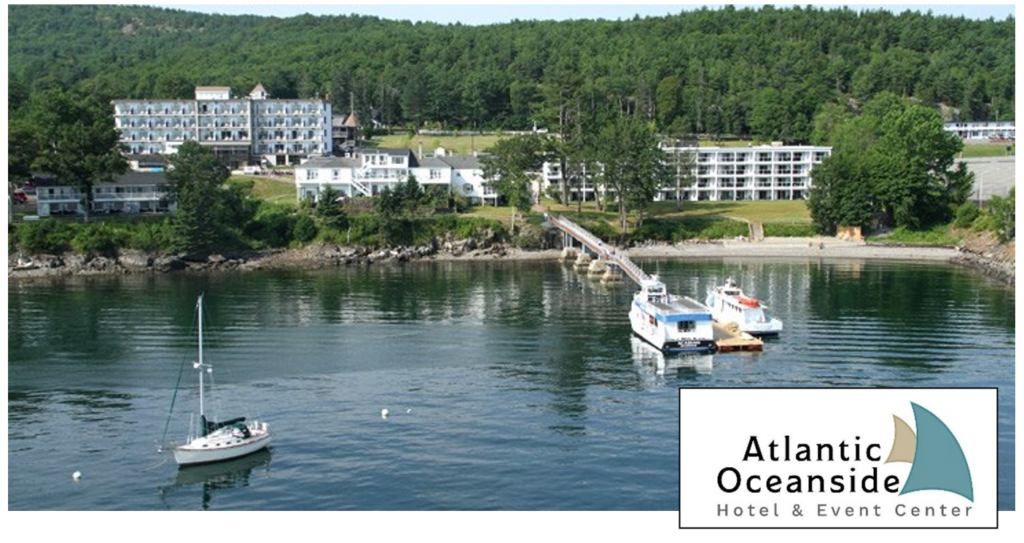 The Maine Press Association's 2022 Fall Conference will be held October 22 at Atlantic Oceanside Hotel & Event Center in Bar Harbor. A full day of events is planned, including informative sessions, The Hall of Fame Induction Luncheon with 2022 inductees, Earl Brechlin and Chris & Paula Roberts and 2021 inductees Dorothy "Dot" Roderick, Dieter Bradbury and Judy Meyer; the annual Scholarship Auction & Reception with Auctioneer Extraordinaire Aimsel Ponti, and the 2019 Better Newspaper Awards Dinner & Banquet with Master of (All) Ceremonies Greg Rec.
Hotel Reservations—Rooms going fast!
We've sold out of the original block of contracted rooms and have added more. Although the RSVP deadline was extended to 9/28, this is the end of the inventory which means once theses rooms are gone, they're gone. Please don't miss out—book your room today!
Conference Hotel Room Information & Reservations ($165) for Oct. 21-22 must be made directly with the hotel. Please call the Atlantic Oceanside reservations office at 800-336-2463 to reserve your room and identify yourself as part of the MPA, Group # 65279. Reservations may also be made online: www.aobarharbor.com . Please Note: The hotel collects a deposit equal to one night's stay when a reservation is made.
Click the BOOK NOW button, click on Add Code.
On the drop-down menu click on Discount Code, then select Group Attendee.
Enter Group ID # 65279 and then click ADD.
Details of your group block will appear. Click on SELECT & GO TO THE NEXT STEP. The guest room selection will appear after you enter your arrival and departure dates.
Conference Registration
No registration fee for Hall of Fame inductees or guests.
Registration fee covers all workshops/sessions, Scholarship Auction, and Awards Dinner & Banquet.
Registration fee required for MPA members even if only attending the Awards Dinner & Banquet.