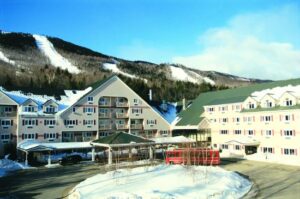 Join members of the Maine Press Association as we gather at Sunday River Resort on October 20 to exchange ideas and celebrate the year's achievements. A full day of informative and engaging sessions is being planned, including a general session with keynote speaker, Leigh Saufley, Chief Justice of the Maine Supreme Judicial Court. Here's an overview of the day's events:
Morning
8:30 a.m. – 9:00 a.m.   | Annual Business Meeting
9:00 a.m. – 10:50 a.m. | Newsroom Mini Bootcamp | Parts 1 and 2 
Three half-hour, jam-packed sessions focused on the needs of reporters but relevant to all who are interested in libel, copy editing or safety inside and outside the newsroom.
9:00 a.m. to 9:50 a.m.| Libel, Copyright and Privacy Rights Workshop: How to stay out of libel trouble. Panelists will bring plenty of examples. Please bring yours. With Sig Schutz, libel czar at Preti Flaherty, Lisa Haberzettl, universal desk editor at MaineToday Media Today, and Matt Kaiser of Portland, who works for Global Sports Advocates and has experience defending the intellectual property rights of athletes.
10:00 a.m. to 10:50 a.m.| Copy Editing Bootcamp: Get your copy as clean as can be: Get tips from the pros and learn to think like an editor. Bring your questions and examples. With Carol Semple, non-swimming editor at The Portland Press Herald; Mary Delamater, Sun Journal word dominatrix; and Scott Paida, copy editor extraordinaire at The Ellsworth American.
9:00 a.m. – 10:45 a.m. | Revenue Innovations
The Ellsworth American's rate card and rating strategy have been recognized best in New England – for all newspaper categories – for several years. Learn from General Manager Terry Carlisle how the American changed its rating strategy and developed effective ad packages.
We've all heard the term "sponsored content" in digital, but what about print? Melissa Pritchard, Creative Services Director at MaineToday Media, will describe MTM's learnings and successful approaches to sponsored content, from concept to sales to execution.
11:00 a.m. – 11:45 a.m. | Growing Consumer Revenue
Peter Doucette, former Chief Consumer Revenue Officer for The Boston Globe and current member of FTI Consulting's Technology, Media & Telecom practice, unlocks the mystery of growing subscription revenue and acquiring and retaining customers. Doucette has spent the last decade studying industry best practices and testing innovative ideas on consumer-centric business models. With advice for newspapers large and small, don't miss this important session focused on the largest growth area for our industry. Driving engagement to attract new subscribers requires the involvement of all departments in a newspaper. It's not just a marketing thing. If you're interested in the future of newspapers, catch this session!
 12:00 p.m. to 1:30 p.m. | Hall of Fame Induction Luncheon
Join MPA members and guests as we hear from the 2017 Journalist of the Year, Matthew Stone, of the Bangor Daily News, and induct the 2018 MPA Hall of Fame nominees: R. Nathaniel W. Barrows, in his 50th year as publisher and editor of Penobscot Bay Press; Kathryn Olmstead, a writer, editor, and publisher who has been affiliated with Maine journalism since the late 1970s; and the late Winifred French, founder (and reporter, editor, publisher and distributor) of The Quoddy Tides in 1968 when Eastport had no newspaper.
 Afternoon
1:45 p.m. to 2:30 p.m. | Keynote Address: The State of Maine's Judiciary Branch, Maine Chief Justice Leigh Saufley
Chief Justice Saufley, a graduate of both UMaine and UMaine Law School — is Maine's first female chief justice, known for her candor, energy , sense of humor and commitment to improving access to justice. Now in her third 8-year term, she has overseen the streamlining of Maine's business and consumer courts, implemented a mediation program to better resolve residential foreclosures, and her Juvenile Task Force has pushed for laws and programs that have contributed to a substantial decrease in the number of youths being incarcerated. In addition, the buck stops at her desk when it comes to suggested changes to court access and the recording of court procedures by the media. She will share information regarding the Maine Judicial Branch and general matters of justice. She will be available for 45 minutes, including remarks and questions from the audience.
2:45 p.m. to 4:00 p.m. | Cross-Platform Packaging Workshop
Today's newspaper journalist is being asked to do multiple jobs effectively. It's no longer enough to simply provide text – good visuals and video are becoming increasingly important. In this workshop, veteran photojournalist Russ Dillingham (Sun Journal) and University of Maine professor Mike Socolow will go over the basics of creating effective imagery and videos in a timely and efficient manner. Using examples from his career, Dillingham will demonstrate how to frame and structure images so that they report an accurate and engaging narrative, and how your smartphone can be as important as your DSLR and offer more interactive storytelling with your audience. He will also go over the dangers and pitfalls of broadcasting live video as news unfolds.
2:45 p.m. – 4:00 p.m. | Newsroom Mini Bootcamp | Part 3
Safety in the Field | Keeping it real (safe) on the street and in the building: With William DeLong, the U.S. Department of Homeland Security's protective security adviser assigned to Maine and an expert on workplace security in all fields.
 5:00 p.m. to 6:15 p.m. | Scholarship Auction & Reception
Join your MPA comrades and guests at this rousing reception and auction, where you can bid on super items like stays in Maine vacation cottages, whale watch tickets, golf passes, restaurant gift certificates, ski lift tickets, and member swag—all to benefit Maine students pursuing careers in the newspaper industry.
 6:30 p.m. | 2018 Better Newspaper Contest Awards Dinner & Banquet